Stone Court near Iowa State University in Ames
Located on the east side of Ames near Duff Avenue, our Stone Court apartments are close to many dining and shopping destinations in Ames. Grocery shopping is more convenient than ever with both Hy-Vee and Aldi within walking distance of the property! Stone Court is a pet friendly apartment community loved for its large yard area, making it perfect for dog owners.
Conveniently Located Near Campus in Ames
Living at Stone Court provides easy access to the Iowa State University campus with a CyRide bus stop right outside and commuter parking just minutes away. The Iowa State football stadium is nearby, as well as access to Highway 30 and Highway 69. Each apartment unit has a deck, and there are several floor plan options to choose from.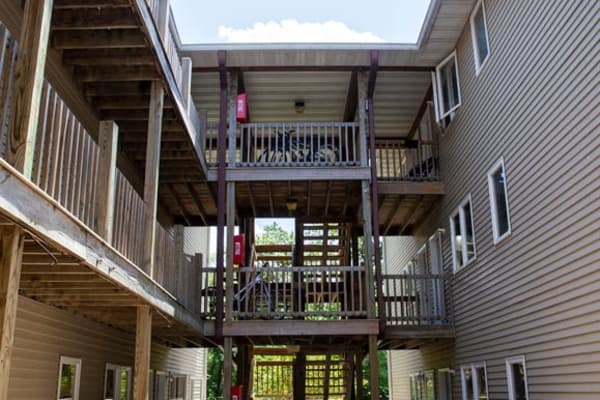 Experience Ames With an Apartment Near Campus
If you're a Cyclone fan, Stone Court is the perfect Ames apartment near campus. Minutes from Jack Trice Stadium, you'll get to experience every bit of tailgating and Cyclone spirit during the football season.
At Stone Court you get the benefit of ample outdoor space and a short distance to the Old Town Historic District. It's here that you can enjoy the Farmers' Market on Main Street or local, independent shops that give Ames its unique feel.
Outside of football games and everything Main Street has to offer, Stone Court gives you the added benefit of being close to Campustown and all of the action taking place there.
Make sure you get the chance to live in one of the best apartments near Iowa State University and take advantage of all the city has to offer with Stone Court.